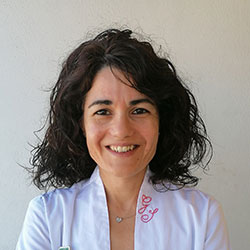 Dr. Giusi Smeralda
Biologist Nutritionist
Dr. Giusi Smeralda is a biologist nutritionist who applies Metabolomics principles to achieve the best possible health.
In 1999, she graduated with honors in Biology from the University of Messina, where three years later, she specialized with top marks in Applied Microbiology.
After an internship in the Applied Microbiology and Genetics laboratories of the Department of Microbiological, Genetic and Molecular Sciences of the University of Messina, she qualifies to practice as a Biologist.
She starts freelancing, and undertakes various in-depth studies at University. She participates in numerous training-refresher courses and conferences in Nutrition Sciences, also carrying out Food Education Projects in Primary and Secondary schools.
Her passion for Science and Medicine have led her to deepen the principles of metabolomics. After her meeting with Dr. Dimitris Tsoukalas, she starts working with his team, and learns the principles on the clinical application of Metabolomics and Nutritional Medicine.
She later joins the Scientific Committee of the European Institute of Molecular Medicine (EINUMM), with which she currently collaborates.
To date, she is an active part of the team of collaborators who follow Dr. Dimitris Tsoukalas' patients in Italy and at the same time she is committed to the popularization of Nutritional Medicine.