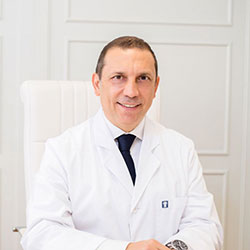 Doctor Dimitris Tsoukalas
President of the European Institute of Molecular Medicine EINUMM
Dr. Tsoukalas graduated in Medicine and Surgery from the "University of Naples, Federico II" in Italy in 1991.
In 2000, he completed his specialization in General and Family Practice at Ippokration University Hospital in Athens, Greece.
In 2013, he completed the Specialist Refresher Course at Harvard Medical School in Internal Medicine and General Practice.
Dr. Tsoukalas is a physician, researcher, educator, writer and expert in the application of Metabolomic Medicine in chronic and autoimmune diseases.
He is the founder of Metabolomic Medicine, a comprehensive health care system that addresses the exact root causes of chronic and autoimmune diseases through the use of highly advanced cellular analyses such as metabolomics and telomere analysis.
With their work, Dr. Tsoukalas and his team aim at helping thousands of people lead healthier lives. Dr. Tsoukalas was awarded the highest honor, "Honorable Mention" by the Greek Ministry of Health, for his contribution to health care.
He is the director of Metabolomic Medicine Switzerland and also president of the European Institute of Nutritional Medicine. Dr. Tsoukalas currently runs four centers that apply metabolomic medicine and address autoimmune diseases and chronic diseases in Switzerland, Italy and Greece.
He is a scientific advisor and collaborates with universities, research centers, and companies such as Farsight Bioscience (on diabetes and metabolic diseases), with Sierra Sciences and Pharmacyclics on telomere biology, and Neolab a CDC (U.S. Centers for Disease Control) certified laboratory for metabolic diseases.
He is collaborating with the Department of Molecular Biology and Pharmacology of the Faculty of Medicine of the University of Brescia on the use of antioxidants in neurological diseases and with the Faculty of Medicine of the University of Crete on telomere biology.
Through the application of Metabolomic Medicine, Dr. Tsoukalas follows and helps professional athletes and national teams such as the Greek women's national volleyball team, sprinters, ultra-marathon runners, professional soccer and basketball players, Everest mountain climbers and others.