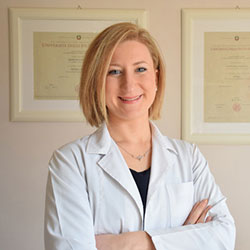 Dr. Francesca Marcon
Nutritionist
Graduate of the University of Padua
Dr. Francesca Marcon is a Biologist Nutritionist who applies the principles of metabolomics to achieve the best possible health.
In 2011, she graduated with honors in Biology from the University of Padua and in the same year, she met Dr. Dimitris Tsoukalas, one of the few physicians worldwide who applies metabolomics in the clinical setting. In 2013 she graduated in Healthcare Biology with a thesis regarding the study of a possible therapeutic effect of vitamin K2 at the mitochondrial level.
She then became licensed to practice and began working more closely with Dr. Dimitris Tsoukalas and Dr. Maria Charta, learning the principles on the clinical application of metabolomics and nutritional medicine. She later joined the Scientific Committee of the European Institute of Molecular Medicine (EINUMM) and started collaborating in the creation of the Metabolomic Academy nutritional medicine course.
To date, she is an active part of the team of collaborators who follow Dr. Dimitris Tsoukalas' patients in Italy and at the same time, she is involved in the popularization of nutritional medicine, nutrition education in preschools, and other projects concerning clinical nutrition and training.